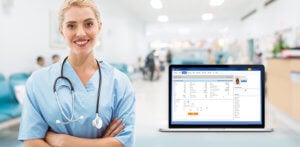 The administrative processes of running a physical therapy practice can be tedious and time-consuming, especially when it comes to filing claims and handling billing. With all the filing requirements and the sheer number of billing statements that your staff need to keep track of and stay up-to-date with, it pays to have a physical therapy billing software in place to aid them in streamlining processes. Perhaps you are looking to update your current Medicare billing software to a more comprehensive system. Choosing the right software is crucial so you can make the most out of your investment.
Apollo Practice Management Software is a great physical therapy billing software to consider, providing you with a comprehensive set of features and functions that will truly upgrade your system and help you enhance your service. Here are more ways that you can benefit from a
Medicare billing software
upgrade:
You get to keep your practice compliant with the latest industry standards. The best PT management and billing software are designed to incorporate the latest information on current regulations and standards so your practice can keep current with industry requirements and avoid run-ins with the law.

With the right

physical therapy billing software

, your staff will be better able to handle collections and insurance claims. These systems are designed to speed up claims processes and reduce rejection rates by simplifying the claims process and ensuring compliance with healthcare and insurance partner requirements. These systems simplify tracking and posting of billable amounts so there's no need to sift through records, study insurance policies, and manually send out statements.

Modern billing software programs are also equipped with more advanced functionalities and additional features that allow users access to important patient information as well as the ability to store and retrieve patient records quickly and easily so you never have to worry about losing records again. This kind of automated system also reduces human error, which is crucial when it comes to maintaining patient records.

The best PT software systems ensure high levels of data security, given the sensitive nature of patient information. This means

establishing greater trust

between your practice and your patients/clients.

Finally, putting a PT software in place enables you to boost employee efficiency as well as their ability to perform their functions more accurately. This is especially true for repetitive and tedious actions. This will free their hands to do tasks that are crucial to the growth of your practice.