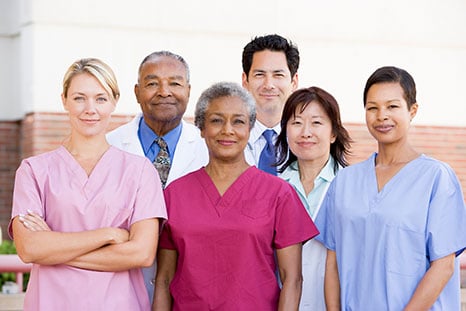 Our Story
The Apollo project began when Randy Porter saw that there was a need for a professional physical therapy practice management software that includes all the essentials that a Physical Therapy practice needs. The primary goal at the onset was to free PTs from having to install multiple softwares that don't play well together.
Over the years the software was built and rolled out to many facilities in the Eastern United States. The system started out to enable seamless and simple practice management, the principle of simplicity can be seen on every single feature of the program.
Danielle is a PT practicing at Western Massachusetts Physical Therapy and a professor at The Sage Colleges in Troy NY. She provided vital inputs towards making the software usable and all encompassing for a PT to effectively manage a practice. With all the efforts put across this years SAAS based Apollo came into existence.
Apollo Practice Management software keeps your practice on the right path, with its comprehensive and user friendly applications; it provides a solution to all your needs. In this digital age you need a digital solution to manage the scheduling, documentation, billing and reports that are created and filed in your practice every day.
Apollo Practice Management is a SAAS-based Physical Therapy practice management software. Apollo Practice Management relieves clinicians, practitioners, and clinical staff from devices, hardware and day to day systems management. Served over the cloud Apollo is secure and HIPAA compliant. Access your account securely from multiple devices at any time and can know exactly where you are with your finances, patient load(s), staff responsibilities and scheduling in one go. This allows you to focus on your practice, improve your efficiency in manageability, and yet reduces your costs in maintenance.
Randy Porter BBA
Randy graduated with a Bachelor of Science in Business Administration in 1982 from the University of Maine. While attending college he was very active in helping teachers with statistical calculations for thesis and published reports. Randy has well over 30 years working in business management with major corporations and 20 years plus specifically in medical consulting. With a rich background in physical therapy practice management and billing you can be assured of an expertise in all ranges and facets of physical therapy billing. Randy has helped design award winning software for practice management and is presently involved with several software projects to help physical therapists.
Karen Hunkler
Karen has been working in physical therapy practices since 1992. She quickly became office manager and controller and excelled in all aspects of practice management. She is a consultant in Apollo Practice Management since 1998 and continues to educate herself in all aspects of physical therapy billing and management. Karen is helping design physical therapy software for both Apollo Practice Management use as well as presently being used by independent physical therapists for software consulting.
Danielle Vittone PT, DSC , MSPA , OCS
Danielle is owner/director of Western Massachusetts Physical Therapy PC and is an Assistant Professor in the Doctorate Program of Physical Therapy at The Sage Colleges (TSC) in Troy, NY.
Graduate:
B.S.P.T. from Northeastern University, Masters of Science in Public Administration from Sage Graduate School (TSC), Albany NY, and Doctorate of Science in Orthopedic Physical Therapy from Rocky Mountain University in Provo, Utah. Physical Therapy, American Board of Physical Specialties, 2001 Certificate: Orthopedic Clinical Specialty, Physical Therapy, American Board of Physical Therapy Specialties.
Advanced training/research:
Danielle teaches in the musculoskeletal, and administration, leadership and business management tracts at TSC. Danielle's research has been the area of Posttraumatic Stress Disorder in the Outpatient Physical Therapy Population, and in Education of Domestic Violence in Physical Therapy Programs.
Presentations:
Danielle has presented at both National and State Physical Therapy conferences. Her presentations include: Physical Therapist and Physical Therapist Assistant Knowledge Base Regarding Domestic Violence, PTSD: An Investigation of Posttraumatic Stress Disorder in Acute Injury in an Outpatient Orthopedic Population, An Investigation of Physical Therapy Outcomes in Victims of Physical Injury with Symptoms of Posttraumatic Stress Disorder, Investigation of Teaching Domestic Violence Education in the Doctor of Physical Therapy Curriculum, Physical Therapy Management for a Latissimus Dorsi Tendon Transfer after an Irreparable Rotator Cuff Tear: A Case Report.