Physical Therapy Software Features
Apollo is simple. Designed from the ground up to require no complicated training. Physical therapists often rollout Apollo in a matter of days with full data import and no loss in productivity.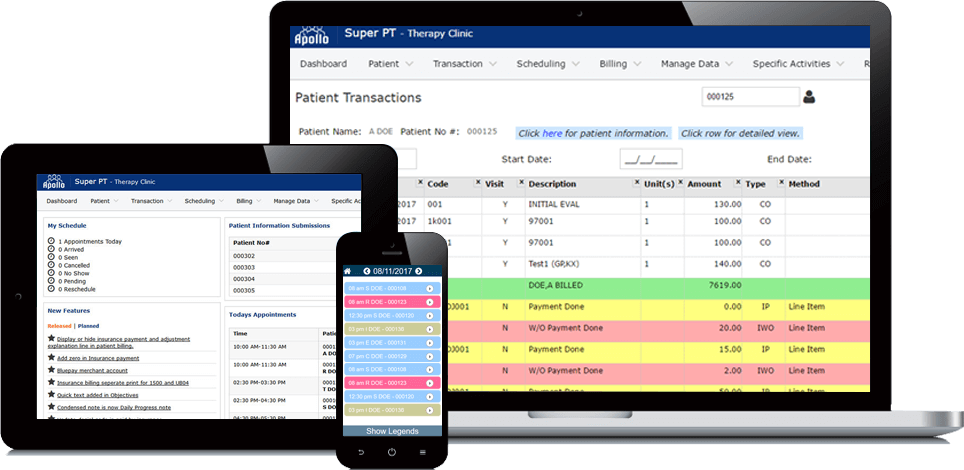 About Apollo Practice Management
The Apollo project began when Randy Porter saw that there was a need for a professional physical therapy practice management software that includes all the essentials that a Physical Therapy practice needs.
The primary goal of our physical therapy software was to free PTs from having to install multiple softwares that don't play well together. Over the years the software was built and rolled out to many facilities in the Eastern United States. The system started out to enable seamless and simple practice management, the principle of simplicity can be seen on every single feature of the program.
Danielle is a PT practicing at Western Massachusetts Physical Therapy and a professor at The Sage Colleges in Troy NY. She provided vital inputs towards making the software usable and all encompassing for a PT to effectively manage a practice. With all the efforts put across this years SAAS based Apollo came into existence.
Apollo Practice Management software keeps your practice on the right road, with its comprehensive and user friendly applications; it provides a solution to all your needs. In this digital age you need a digital solution… Read More
Get a Free Demo
Get a Free Demo of Apollo Practice Management software to explore the many key features available for your use.
Get a free demo
Benefits
Learn how Apollo Practice Management software benefits your physical therapy practice productivity and growth by clicking the button below.
Learn More
Using technology to revolutionize patient care
Your EMR and billing software should streamline the BEFORE, DURING and AFTER patient experience.
Here's what you can expect with Apollo.
PT Built PT Focused
A physical therapy software designed by PT's for specific PT professional needs, customizable to the way you work to improve Physical Therapy outcomes.
Online Physical Therapy Software
Includes a phone app and is compatible with any iPad, laptop, tablet, MAC or PC, work from anywhere on any device.
Electronic Medical Record Security
Protect your patient data using maximum security. Bank-level encryption & full back-up at fully-managed cloud based data centers.
Affordable Physical
Therapy Software
This integrated system requires no paper, no server, no maintenance and reduced chargebacks, saving you money.
What our clients say about us
Apollo Practice Management System has given me valuable tools to manage accounts receivable, referral management, documentation and scheduling. I have been able to be more efficient with my marketing dollars, and collections efforts. Coupled with responsive technical support, it is a product I would recommend to anyone who is looking to get a clearer picture of their business.
Alan Visnick PT,OMT,LAT,C
Director Treatment, Orthopaedics Plus
Our clinic has been using Apollo Practice Management Software for the past 2 years. The program is straightforward, efficient, and easy to understand. The learning curve for my staff was a matter of days vs. weeks. Phone support for any problems that might arise is promptly handled and resolved within 1-4 hours. The recent changes in Medicare billing requirements easily interfaced with the software without any delay in billing or workflow.
Mount Auburn Physical Therapy Associates, PC