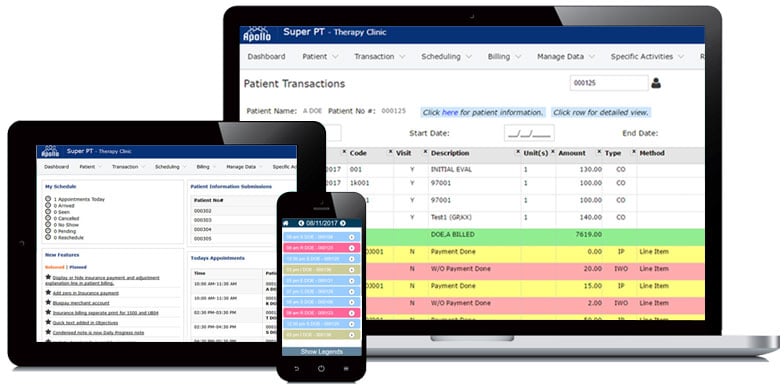 Why Apollo Practice Management software
Apollo equips PTs with the tools they need to connect the endless, complicated tasks of running a PT practice into a single, comprehensive solution.
Fully integrated
Built with a single integrated interface, it helps to eliminate the potential for communication and data interchange failure to seamlessly execute day-to-day processes, resulting in enhanced patient care, improved productivity, and higher profitability.
We go where you go
As a cloud-based application, you can access your Apollo dashboard from virtually any web-enabled device for instant access to insurance claims, patient information, appointment books and more – it means that physicians, staff, and patients can collaborate more effectively in a secure environment for better patient care.
Cost-effective and affordable
Pay for what you use – The flexibility of practice management software allows small practices to think big without breaking the bank. Flexible configurations and plans that grow and change with your practice offer enormous value to your PT practice.
Customizable
At Apollo, we understand that every PT practice is unique. And, hence our every feature is highly customizable, helping you to preserve your clinics identity. From custom SOAPs to custom evaluations to patient appointment scheduling software, our software fits you, your practice, and your work ethic.
Still not convinced? Here are some more reasons why you should adopt Apollo Practice Management software:
Bring along your existing data and import it to your Apollo account

Works with your billing software service/clearing house – With no additional cost for EDI fee

Empower patients by sending reports and documents directly to their inbox or fax machines

Highly configurable Appointment Reminder automatically sends SMS or email reminders to patients, meaning fewer no-shows and more profit for your practice.

Intuitive pattern demographic online forms enabling patients to fill the vital information at home or on the way to the appointment

Once you select your package you do not pay for any upgrades or add-ons – Free Updates for life.