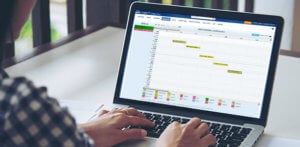 Account receivable is something that's a BIG problem for every PT practitioner. The enormous paperwork, issues in collecting payments from defaulting patients, keeping track of them, overall collection costs, billing errors, supplies, and services under-billed frequently.
These are not all…
Regulations keep changing; insurance company issues crop up now and then (only about 70% of the medical claims are accepted by them on the first attempt).
Like any business, you need continuous cash flow to keep your practice at an optimum level. The smoother the billing cycle works, the better for your practice, for you, for your employees and your patients.
The bottom line then is…
You need an efficient PT billing software.
How to go about?
Simply by purchasing a medical billing software?
With rapidly changing healthcare billing landscape, it means you need to upgrade it each time the government, the insurance companies change regulations/policies or any other relevant changes that come up.
It also means that you may need to go for a major overhaul of your entire system or keep on frequently updating your software.
Any alternate option?
Sure.
You can also go for a web-based practice management software as a service (SaaS) where the service providers upgrade the software regularly. Sparing you from purchasing a new software each time and upgrade your system (if needed). You save lots of upfront costs and can opt for pay as you use.
Regardless how you wish to go for a medical billing software, whether you purchase or go for a SaaS arrangement, there are certain points to take a note of.
All for your best interest.
And here are they…
5 Pointers To Consider While You Opt For A PT Billing Software
1. Simplify the complexities?
Some software is complicated. Prepare yourself for extensive training and familiarization.
The company should give you that. Also, this must be planned and decided early enough to avoid fire fighting with time/ deadlines. Your work shouldn't suffer during the period.
2.Are support pillars in place?
The software provider must give you an efficient support system, and that should be evaluated to ensure that you're not left hanging during trouble time.
The support system should be able to attend to a broad range of issues and timely enough.
3.Protect the Data?
The software must have an automatic or frequent data backup system in case of unexpected events.
4.Are You Secured?
Ensure the level of security the service provider gives for your data. Because you have sensitive information and they need to be handled with utmost care.
5.Check the TAT, your lifeline
If you are outsourcing your medical billing to any solution provider company ensure that the software is practical, has ease of use and also gives the turn-around-time (TAT)as promised by the firm. Because you install an efficient technology to save your time which you use for your core business.
Make certain that your service provider prioritizes your work in providing results and in quick turn around time.
Apollo Practice Management is a SAAS-based provider offering flexible model applications for Physical Therapy practice management. Apollo's web based practice management software is robust and flexible practice management tool. It can be adopted by any size of an organization right from a solo practitioner to a large firm.
Apollo is relentless in providing high-quality features, service, and support to all your needs ensuring that your practice remains on the right track and flourishes.