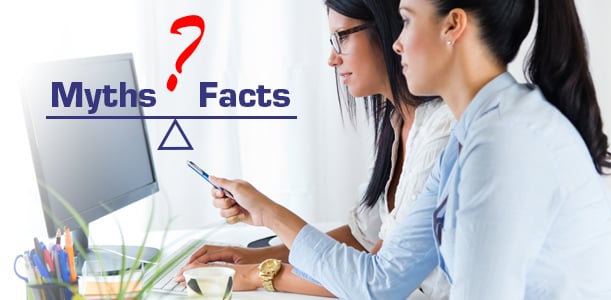 We get a lot of questions in general about Medicare, so we thought we would put together this quick white paper on Myths and Facts about Medicare.
A federal health insurance program for people, Medicare services individuals who are 65 or older and certain younger people with disabilities, and those suffering from End-Stage Renal Disease (permanent kidney failure requiring dialysis or a transplant, sometimes called ESRD).  The program encompasses millions of people and yet surprisingly several false notions are floating about the program. It is important that one separates the myths from reality so that we avail of the program to our full advantage. We have chosen to focus on some of the prevalent myths.
I don't have to pay anything for Medicare… its free!
This is partly true and partly false. While some part of the program is "premium free", patients are expected to pay for certain expenses. Medicare is not as easy as physical therapy software!
If you have paid Medicare taxes for 10 years while working, you won't have to pay any premium for Part A (hospital insurance).  Even if you haven't met this requirement you stand eligible for Part A, if you pay a monthly premium. IN 2017, beneficiaries of Medicare Part B (medical insurance) will have to pay a standard premium amount of $134 (or higher depending on your income). Medicare Part D Prescription Drug Plans also have a monthly premium, which changes by the plan.
I am under 65 so cannot avail of Medicare
Certain eligibility criteria would allow you to avail of Medicare even if you are under 65. For example, if you are suffering from the last stages of renal disease (ESRD) or are disabled you could claim a benefit.
Go ahead and see if you can benefit from a Medicare compensation under the below situations:
Since the past 2 years, you have been collecting disability benefits from the Social Security Administration or the Railroad Retirement Board

End-stage renal disease (ESRD)? You may be eligible to sign up but not enroll in a Medicare Advantage plan. You may not be able to sign for a Medicare Supplement (Medigap) plan until your reach 65.

In the case of Lou Gehrig's disease (amyotrophic lateral sclerosis or ALS), you're automatically enrolled in Medicare the month your disability begins.
I am sick already, so will Medicare care and bear (my expenses) for me?
Following the introduction of the Affordable Care Act, health insurance providers are mandated to accept members irrespective of their state of illness. Medicare as well cannot reject you despite your pre-existing severe health condition.
Isn't Medicare and Medicaid the same?
Medicare and Medicaid are both government programs, but they're as different as chalk and cheese. While Medicare is a health insurance and has costs associated with it for most beneficiaries, Medicaid is a joint federal and state program with rules about who is eligible for Medicaid that vary by state, but usually pays 100% of the medical bills.
There's a lot about Medicare that's simply misunderstood, despite it being a critical necessity for seniors, Unfortunately, if you misunderstand Medicare, it could come back to haunt you in your wallet! So it's time you take note of the truths and cast away all the cobwebs in your mind.